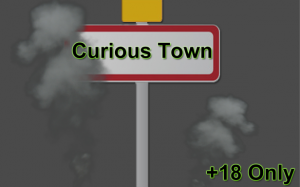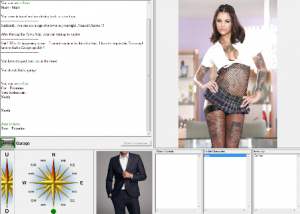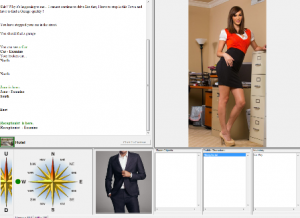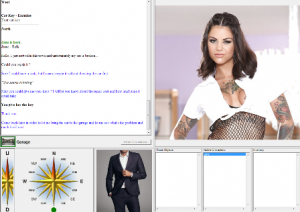 Curious Town is an erotic game which include elements like : mind control , hypnosis, M/F, and BDSM. You are a man, driving when suddenly, you have an engine issue with your car. Hopefully you arrive in a town named curious town. A lot of things will happen here! It's not including a lot of content for the moment but I have some idea that could be interesting in the future. (Like using a spellbook, demon power that could help you in this town… If everything works well!)?
Mobile Phone :
– You can check your messages from it now instead of having an event (Only the first event when you enter the first time in your room didn't change)
– You can check the progressions of the game.
– You can check infos about the game.
About Sms :
– 22 sms are implemented. 2 Sms for each situation (Slave, Normal, Mistress). Actually it's only messages and new images without really impact on the game. Few sms will give you, money, items, events but I will let you discover it yourself
Added for following characters :
– Bree (Mistress + Slave)
– Roxy (Mistress + Slave)
– Denisa (Mistress + Slave)
– Brooklyn (Mistress + Normal + Slave)
– Carter your Wife (4 different Sms with 3 possible answers that will define future end game options with her)
New Items :
– More clothes !
– Magician letters can be found in different places and will give you additional details about the City (it is the beginning of background of the city and a potential storyline)
Bag :
– You can buy the bag at the Shop. It cost 500$ but you can put some items in if you want to organize your inventory.
– It's also double the weight capacity. (Ex: You can have 8 wood logs instead of 4)
Updates :
Text Added for :
– Randi (All the scenes should contain texts)
– Gigi (All the scenes should contain texts)
New character content implemented :
– Maddy (at the BDSM Shop)
I have expanded the following characters : (That was normally ended)
– Denisa (very Small content added. Event with roxy and Sms Pictures)
– Roxy (Small content added. Event with Denisa and Sms Pictures + New dom pictures)
– Bree (Big content added. Sms Pictures + 1st Slave End Game (You can finish with her as your slave) + New way to end game as a Mistress (Quite interesting with some personalized content)
– Brooklyn (very Small content added. Sms Pictures)
You will have your mobile phone at the beginning but will lost it during the first night at your room. It's not difficult to find it back (Search a bit in your room ! )
Fixes – Changes :
– You can only get naked in your Room. You cannot remove your clothes outside your room/shower.
– You can no longer go to the casino with certain clothes on
– Increase sell cost of a wood log (30$ instead of 25$)
– You don't have anymore to Unlock + Open few doors that was like that on the VIP Floor. (Was useless and non sense regarding other doors)
Censorship: None
Platform: Windows
Language: English
Size 784 MB
Download game: