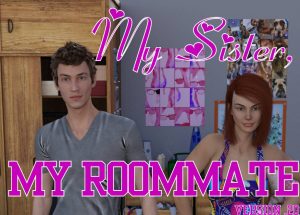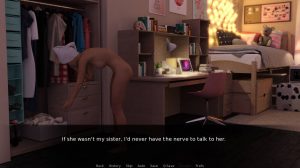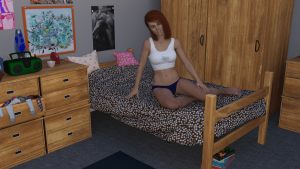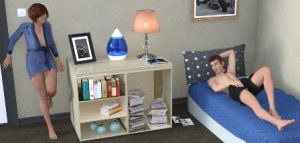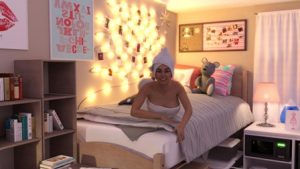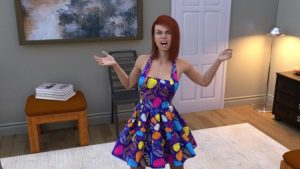 You play Taylor, an introverted 18 year old who is forced to live with his sister, Nikki, when they go away to the same college, due to a University housing error. Taylor is a virgin and Nikki is kind of a slut. Can she help get Taylor out of his shell and maybe help him with the ladies? For Taylor's sake, let's hope so! I expect to take "My Sister, My Roommate" a lot deeper than the demo currently shows. In future releases, sex won't come as easy, but I wanted to make sure I had the ability to render quality sex scenes… And well… I was so preoccupied with whether or not I could, I didn't stop to think if I should..
V.9 Changelog:
– Our story continues…
– A new day of content is added – It's Sunday and Nikki is board at work so she invites Taylor and Molly to hang out at the beach during a rainstorm… And they get to drinking….
– New character, Sarah, the beach bartender added
– The decisions you made in the past (and in this version) will impact the story you experience when you play
– 178 new image renders and a couple animations
– There was a slight glitch in the coding I did from the last version. If Taylor was inconsistent with his decision to watch Nikki with other guys (said yes early in the game, and then changed his mind in V.8, it messed up one of the variables (that I needed to call back to in this version). It's obviously since been fixed, so, if you that sounds like something you did, you may want to load a save to just before the hot tub scene where you have the decision to let Nikki and D'Brickashaw join you – otherwise the dialogue in this version won't make sense. The number of people this impacts will be small, since I assume most people would be consistent with those decisions.
Censorship: None
Version: v0.9
Platform: Windows
Language: English
Size 1500 MB

https://k2s.cc/file/9e7094dc0511e/My_Sister_My_Roommate_0.9.part1.rar

https://k2s.cc/file/c9407281bda4a/My_Sister_My_Roommate_0.9.part2.rar
OR

https://fboom.me/file/9e7094dc0511e/My_Sister_My_Roommate_0.9.part1.rar

https://fboom.me/file/c9407281bda4a/My_Sister_My_Roommate_0.9.part2.rar