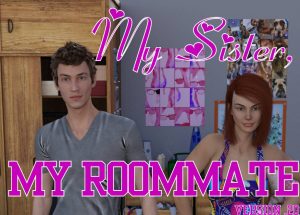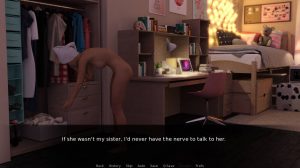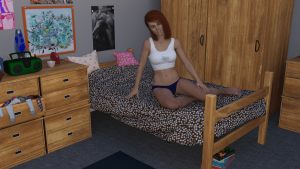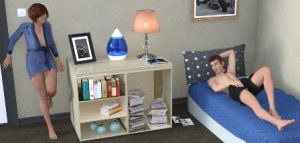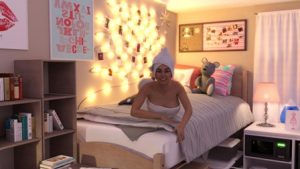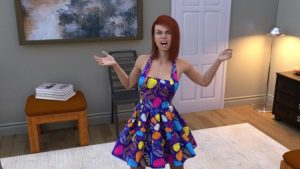 You play Taylor, an introverted 18 year old who is forced to live with his sister, Nikki, when they go away to the same college, due to a University housing error. Taylor is a virgin and Nikki is kind of a slut. Can she help get Taylor out of his shell and maybe help him with the ladies? For Taylor's sake, let's hope so! I expect to take "My Sister, My Roommate" a lot deeper than the demo currently shows. In future releases, sex won't come as easy, but I wanted to make sure I had the ability to render quality sex scenes… And well… I was so preoccupied with whether or not I could, I didn't stop to think if I should.
v 0.10 Changelog:
– Our story continues…
– After a crazy weekend, it's time for Taylor to go back to class, where he'll get a text from Mrs. Sollain. She needs his help moving furniture at her house. What happens from there is up to you.
– The decisions you made in the past (and in this version) will impact the story you experience when you play through this update
– 205 new image renders and a couple animations, making this update the largest one I've done yet!
Censorship: None
Platform: Windows
Language: English
Size 1730 MB

https://k2s.cc/file/e6b761109dfbb/My_Sister%2C_My_Roommate_0.10.part1.rar

https://k2s.cc/file/3cda34a0809c6/My_Sister%2C_My_Roommate_0.10.part2.rar

https://k2s.cc/file/cbf1ec4ff7117/My_Sister%2C_My_Roommate_0.10.part3.rar
OR

https://fboom.me/file/e6b761109dfbb/My_Sister%2C_My_Roommate_0.10.part1.rar

https://fboom.me/file/3cda34a0809c6/My_Sister%2C_My_Roommate_0.10.part2.rar

https://fboom.me/file/cbf1ec4ff7117/My_Sister%2C_My_Roommate_0.10.part3.rar