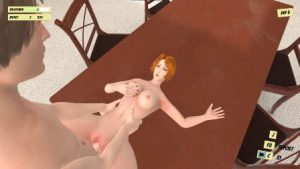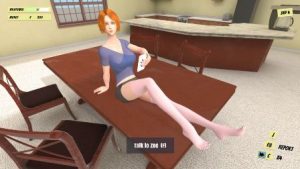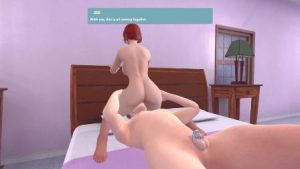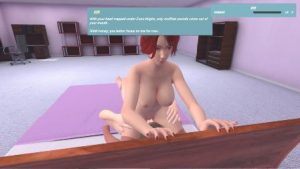 Femdom Wife Game delivers short stories about your vanilla partner turning dominant.
Taking place in a 3D realtime and fully animated game, this femdom game transcribes erotic novelas in its own way. The game has a strong focus on femdom content, such as pussy worship, cuckolding, chastity, foot fetish, etc. The definitive game will include several wives with unique personality traits and fetishes.
Changelog:
Cooking:
– You can only cook when Zoe is asking for it.
– Going to sleep instead of cooking will make Zoe mad at you.
– If Zoe is dominant enough, she will scold you for making a bad meal.
Shopping:
– The shopping has been moved in the living room on a laptop.
Computer:
– You can now masturbate on the computer in the morning, only if Zoe is not in the room.
NTR:
– Masturbating on cuckold porn will trigger a special cutscene, starting the NTR path.
– After a while, Zoe will rest on the wall and she'll ask you if you are serious about your cuckold fetish.
– Zoe will now have additional reactions when you eat cum from her pussy.
– The first NTR scene will trigger as you try to go to bed while Zoe is out.
– Afterward, Zoe will randomly wait for you at the edge of the bed for an additional event.
– If Zoe is dominant enough, she may wake you up at night for a NTR event.
Cum eating:
– When "cum eating" is unlocked, cooking good and perfect meals may end up in a cum eating scene.
– When Zoe is sitting on the kitchen table, trying to fuck her will now result in a cum eating alternative, if you unlocked the cum eating content.
Feminization:
– At some point, Zoe will rest on the wall, waiting for you to talk with her. She will ask you to try some new clothes she bought for you.
– If you accept to wear what she bought you, it will unlock the feminization content.
– Wearing girly clothes will sometimes trigger special reactions from Zoe, increasing the feminization stats (though there is no unlocked cutscenes for this at the moment).
Willpower & Horniness
– New stats: horniness. The more horny you are, the less you earn willpower.
– Willpower can now be earnt by giving an orgasm to Zoe, in addition to cooking.
– Willpower decreases when Zoe is mad at you
– Horniness will increase when licking Zoe or when Zoe teases you. It will also increase a bit every night.
– Horniness will decrease by cumming (either while fucking Zoe or while masturbating).
Improvements & changes:
– Fixed the camera after the cooking minigame.
– Fixed the mouse cursor visible after sending a feedback.
– You can (and should) equip different clothes for each outfit for Zoe.
– Remastered the facesitting animations.
– Remastered the pussy licking animations on the edge of the bed.
– Added a new orgasm animation for the bed facesitting.
– Improved Zoe face when moaning.
– Improved Zoe skin.
– Improved stockings.
– TEST: When multiple reactions are available, Zoe will now use the one for which she has the highest stats.
– Various fixes based on your feedbacks.
– Added tabs to the store
Developer: FemdomWifeGame
Platform: Windows
Language: English
Version: 1.41
Censored: No
Size: 710 mb
Download game:

https://k2s.cc/file/13dd994c1f010/Femdom_Wife_Game_-_1.41_Win.zip

https://fboom.me/file/13dd994c1f010/Femdom_Wife_Game_-_1.41_Win.zip