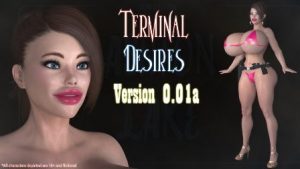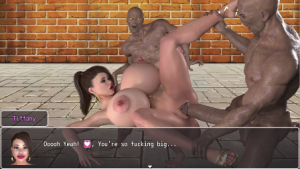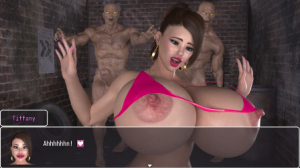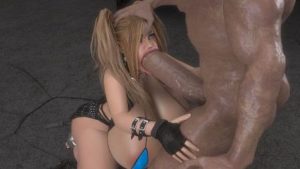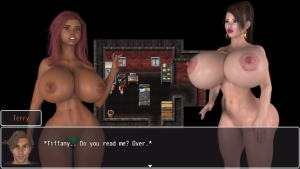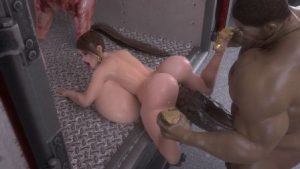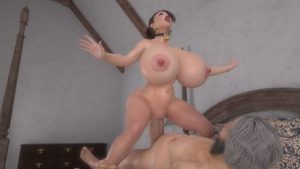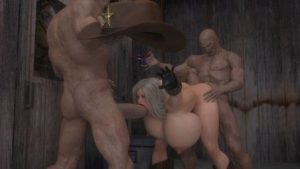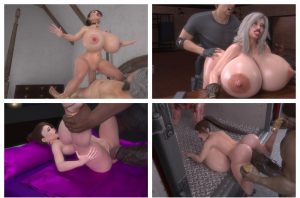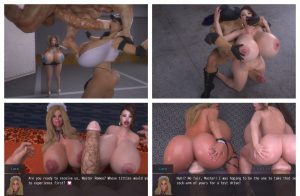 Terminal Desires is an erotic, zombie themed, role playing game made with RPG Maker MV. Set in a fictional version of Earth where incredibly skimpy outfits and huge proportions are the norm. Control police officer Tiffany Neil as she and her partner investigate a mysterious distress signal from the small, secluded town of 'Ashton Lake' and uncover the horrors within.
Explore the town, face fearsome enemies in combat, make important story defining decisions and sexual choices. Will she submit to her every desire? Or will she resist and uncover the shocking truth hidden deep within the town's walls? Her fate, along with the town's is yours to decide.
Changelog
v0.10 Alpha
*Added the first round of Voice Acting lines for Tiffany. (Special thanks & credit to "TheVoiceVixxen" for lending her voice to the project)
– In this ALPHA only the 1st encounter scene alongside 1 of the combat sex scenes with the male zombies are fully voiced.
– However, the remaining scenes still benefit from overhauled sfx & moans.
– Combat & Submission/Surrender lines are also fully voiced with many new variant lines that can be played at random.
*Added a Scene Gallery accessible via the pause menu. You can travel to the gallery during regular gameplay to view previously unlocked sex scenes.
– Completing the game's current available content will unlock all of the sex scenes.
– For the sake of testing, all scenes will start unlocked for the ALPHA & BETA versions.
– While Inside the Gallery, pressing the "G" key (Default) will allow you to configure some temporary settings such as Tiffany's Kinks or Body Type for use in the Gallery Scenes that have those variations.
*Added a WIP (90% complete) Story Sex Scene (Debra Titfucks Jebadiah) to preview in the Gallery.
– In the next release, the scene will be finished and retroactively inserted into the game's story when Debra & Jebadiah first reunite.
*Added the 1st Combat Sex Scene for Debra vs Male Zombie.
*Added the ability to gain & spend "Stat Points" on Level-Up. This will allow players to customize how Tiffany's stat's are boosted each level.
*Added the ability to gain & spend a "Perk Point" on Level-Up. This will allow players to further customize their Tiffany's playstyle.
*Added the ability to view Tiffany's currently acquired Perks from the Pause Menu.
*Added 9 Skills that Tiffany can gain exp in and Level-Up independently of her General Level.
– Each Skill has 4 Ranks that confer various bonuses(Rank Bonuses are not implemented in this ALPHA).
– Each Skill starts at Rank 1 except proficient Skills which start at Rank 2.
– Skills also open up additional dialogue options(Day 1 only in this ALPHA).
– During the game's opening sequence, you will make some choices on which Skills Tiffany is already proficient in.
*Added an overhauled "Options" menu along with some new settings.
– TD specific settings that were previously altered via Key Items in Tiffany's inventory are now altered via the "Options" menu instead.
– Since most Options require the game to be fully loaded first, the "Options" menu choice from the Title Screen has been removed.
*Added the ability to configure keyboard keybinds via the "Options" menu.
*Added a basic "Fast Battles" toggle to the "Options" menu.
– Fast Battles will Disable all images & dialogue that play when the girl's perform their moves, but not when being Stripped or Overpowered, making combat much faster for those who want that.
*Added Autosaving, a Quicksave hotkey (Default Key is "1") & a Named Save hotkey (Default Key is "2").
– Unless Disabled via the "Options Menu", Autosaves will occur whenever the player moves into a different area/map.
– Any previous manual save prompts have been replaced by Autosaves as to not interrupt gameplay.
– The Quicksave hotkey will directly save to the new Quicksave slot.
– The Named Save hotkey will allow you to edit the name of your save file before saving.
– The original function has been restored to the "Save & Load" option in the Pause Menu.
– These changes should hopefully work in tandem to provide more control over saves and make them less frustrating to interact with.
*Added a "Reload" hotkey (Default Key is 'R'). Press it while on the map & Tiffany will reload all weapons that she has ammo for.
*Added an "Outfit Repair Kit" hotkey (Default Key is 'O'). Press it while on the map & Tiffany will use repair kits if she has them.
*Added a "Masturbation" ability & hotkey (Default Key is 'M'). Press it while on the map (After the 1st encounter scene) & Tiffany will Masturbate.
– The 1st Masturbation of each day will replenish 3 points of Tiffany's Endurance(END).
– The current Masturbation "Scene" is a basic placeholder.
– 2 Full Masturbation Scenes will be added in the Full Release.
*Added a "Kinks" hotkey (Default Key is 'K'). Press it while on the map to check which Kinks Tiffany has developed. (Slut for "X", Hates "X", Addicted to "X", etc)
*Added the ability to skip the game's opening sequence.
– This will allow familiar players to start just before the scene where Tiffany encounters Vanessa.
*Added images & dialogue to Tiffany, Debra & Lara's "Guard" moves.
*Added render variants to support Tiffany throwing grenades on Day 1-2.
*Added 3 renders to the PROLOGUE END Scene that were cut from v0.09 for time.
*Added an image for when Tiffany strips Vanessa. (Full Sex Scene Coming in Full Release)
*Added "Stealth Mode" variations to Tiffany's Pause Menu image & dialogue window portrait.
*Added the ability to collect Tiffany's Milk in "Empty Bottles" if she has any.
– 600ml of "Milk Made" with an Empty Bottle in the inventory = 1 Milk item.
– Can be consumed, sold or cooked with.
– Empty Bottles can be obtained via looting or by consuming Bottled Water.
– In the future, I will add Breast Pump items and milking scenes for the girls.
*Added displays for "Days Pregnant", "Bred By" & "Fetus HP" to the "Character Data" screen in the "Status" submenu.
– Also, added displays for the "Other" categories of sex acts.
– Also, made the distinction between Regular Beasts & Zombie Beasts (which also fixes a dialogue flag check).
*Added many new consumable items & some interactable map objects to facilitate several of the new Skills & diversify the loot pool.
*Added many new UI icons & updated some existing ones.
*Added a "Location Cleared" system, where the game will properly track which locations have been cleared of zombies.
– This will mostly be used for future quests.
– Right now it displays a notification, changes music, awards Policing Skill exp & Tiffany puts away her 9mm during dialogue.
*Added a less intrusive way to skip sex scenes. Now you can skip the scene at any point by holding "X" or "ESC" or "INS" (by default) & waiting for the prompt bar to fill.
*Added less intrusive "Item Found!", Interaction, Hunger/Thirst & Quest/Journal update notifications.
– It is also now more obvious when Tiffany is about to die from Hunger/Thirst because she will say so alongside the notification.
*Added an option to get a bonus cash reward when taking Robert's deal (Requires Rank 2+ Whoring)
*Added an option to spare Dr. Milburn after defeating him in combat (with 1 new render).
*Added an option to talk Dr. Milburn down without combat or sex (Requires Rank 2+ Policing or Persuading)
*Adjusted several other Day 1 dialogue options to award Skill exp or require Skill checks.
*Adjusted the exp rates & curves to make leveling up faster. Also, when in combat with a companion, the total exp for a kill will now be shared evenly between both characters.
*Adjusted the default Stat increases earned per level to account for the new system of "Stat Point" spending on level up, & also for general gameplay balance.
*Adjusted most of the Loot found in containers to now be generated randomly, and positively influenced by Tiffany's Luck Stat.
*Adjusted the design & layout of multiple GUI elements.
*Adjusted the level design of several locations.
*Adjusted some music placement alongside GUI, Zombie & Sex Scene SFX.
*Adjusted the default battle speed to be faster.
*Adjusted the formatting of Day1-2 dialogue to make use of the dialogue window's top line.
*Fixed a potential softlock if Tiffany was standing in Jebadiah's way when he attempted to enter his house.
*Fixed a potential softlock if Tiffany was in the "Woods Trail" with Debra & at least 1 of Jebadiah's horses, but not Big Barney.
– This could cause the player to get stuck in the woods, unable to enter Jeb's Farm without Barney, while also unable to enter Barclay Farms with the other horses.
*Fixed a bug where Tiffany & Lara could both attempt to throw the last remaining Frag Grenade for their turn.
– Only one would succeed, but now the second character doesn't receive the option to and accidentally waste their turn.
*Fixed a bug where Zombies would not trigger combat when bumping into Tiffany's Companions on the map.
*Fixed a bug where Zombies would reset to their original position when reloading a map.
– This also greatly assists with Andre's pathfinding on Day 2 which could become easily broken before.
*Fixed a bug where the story could progress without clearing the Pharmacy if Robert was killed outside.
*Fixed a bug where the "Milk Made" & "Cum Drunk" displays (in the "Character Data" screen in the "Status" submenu) had overlapping issues with the text when the values got too high.
– These 2 categories will now convert their measurements from mL to L to kL when reaching values above 3 digits.
*Fixed the "1st Encounter" Scene & the "Robert Breeds Tiffany" scene to use the "Sex Scene Duration" setting for their loops.
*Fixed plenty of typos, and other minor bugs. Also renamed some of the terminology used throughout the game.
[collapse]
Developer: Jimjim
Platform: Windows
Censored: No
Version: 0.10 Alpha 3
Language: English
File size: 1930 mb
Download game:

https://k2s.cc/file/b998b084c34f1/Terminal_Desires_0.10_ALPHA3_Patched.zip