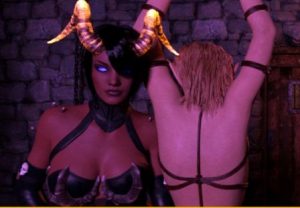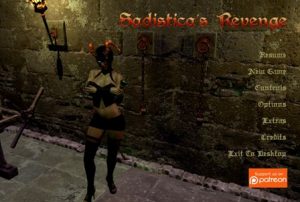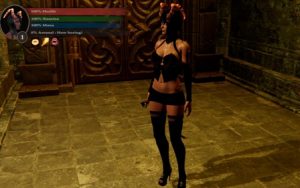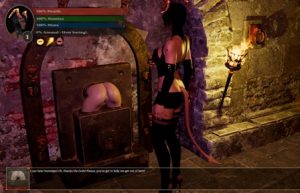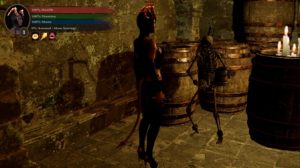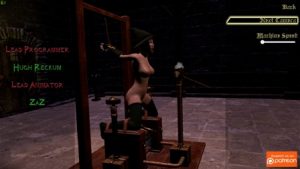 Sadistica's Revenge: Play as a kinky Succubus out to settle the score with those that betrayed her. Gain power from sex and kinky activities and hunt down powerful sex artifacts from a long lost civilization.?
Changes + Features Added:
-Control schema has been changed. Camera will auto rotate without using RMB, cursor is no longer on screen during regular game-play, interactables will work based on being oriented in the center of the camera view with Player facing them within proximity. Interactables/usables button has changed to 'E'. Shield has changed to RMB. (Change made due to Patron voting result).
-Added zoom to the main camera.
-Added Controller Support (Based on Xbox controller layout). – To activate, use the toggle in the in-game menu. – For info on the button layout, see the Controls section of the Main Menu.
-Added numbering to dialogue responses when there are multiple options that correspond to the number keys 1, 2, 3, and 4 that can be used to advance respective response as an alternative to clicking on them.
-Masturbation is now done using 'M' key since the cursor is no longer on the screen to click the button.
-Resolution options will now be available before the game loads.
-The 'Enter/Return' button will work to progress both Player and NPC dialogue, for Player, 'Enter/Return' defaults to 1st dialogue response option.
-Added toggles in the In-Game menu to flip mouse X-Axis and Y-Axis independently.
-Improved Controls-Menu organization.
Bug Fixes:
-Script in dialogue sequences now have higher priority – should fix the getting stuck on dark screen bug reported for Walled-Damsel scene.
-Fixed Spirit dialogue logic when talking to her for the 2nd time.
-Spell casting and attacking is now disabled while in dialogue.
-Escape key doesn't pause the game or bring up the in-game menu while in dialogue or if another different UI window is open. If dialogue or UI is open, escape will work to cancel dialogue or close the UI. If no other UI is open, 'Escape' key will open the in game menu.
-The Player now returns to the main menu upon death.
-All database variables are now reset after dying and everything in the scene should be properly reset once returning from the main menu. – This should fix stuck dialogues etc.
-Sady will now check if she has her whip equipped after the Thrall Girl scene and automatically re-equip it if it isn't already equipped before the fight so she doesn't start combat unarmed.
-Fixed Stat-point exploit after leveling.
-The continue button will now progress via 'Enter/Return' button on initial NPC dialogue prompt.
-Shield can no longer be used during dialogue and will be disabled if active on dialogue start.
-Fixed camera rotation sometimes getting stuck after the end of Wall-Damsel scene.
-Fixed heel sounds not playing while controller was being used.
-Fixed Player portrait sometimes not showing up during dialogue.
-Fixed issue with Walled Damsel scene not playing correctly if Player previously had sex with the Perv Skeleton.
-Fixed issue where Sady couldn't masturbate after having Sex with Perv Skeleton.
Simple walkthrough
1.Spirit encounter ( Some Backstory) Press Y and equip the Spirit Vision Spell and activate it in the room where there is pile of skeletons on the floor
2.Ideally go to wall girl first on the right (The more harsher you are the more your , arousal increases, beware that this stat recorded and will play a part later on in the game) Check the magical sealed door .
3.Check the Locked Door and Go to the skeleton and choose any of the 3 options . ( The third option being the funny one )
4. Sadistica's icon picture should change and clicking it will cause her to masturbate ( there are about 3 sets of animations , Standing , Kneeling and Lying on the back . They play randomly) You can level up using stats of your choice
Developer: KinkGamesInc
Platform: Windows
Language: English
Version: 1.0.1
Censored: No
Size: 1740 mb
Download game: