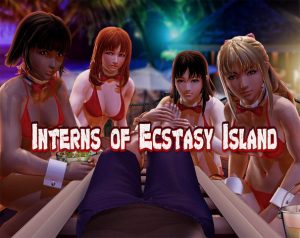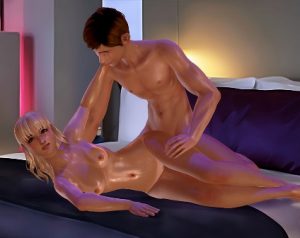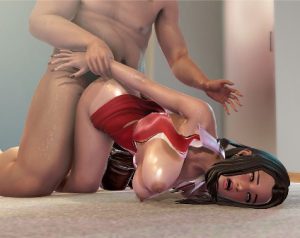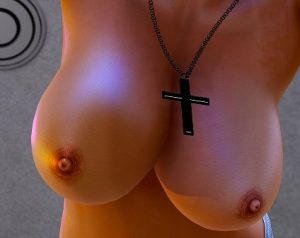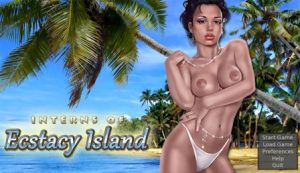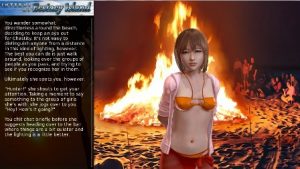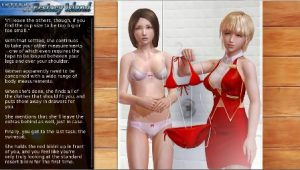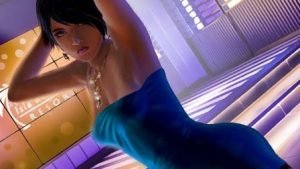 You are a college student who lands a once-in-a-lifetime opportunity for an internship. You will work at a tropical island resort. After a night of drunken partying you are alarmed to find you are transforming into a woman. Train to work at various parts of the resort, investigate the cause of your transformation, and maybe have a little fun on the way.
New scene for first week: beach binoculars
Partial rewrite of morning body chance notice. New "avatar" graphics to go with them.
Quick rewrite of body transformation system. Hopefully better gradual TF.
Repair and additions to wardrobe system, including some error handling. Selections might actually be remembered now…
Major code cleanup and reorganization pass (to help Twi with porting to new backend system).
Bug fix: Revisions to Cynthia's morning code to restore dressing sequences.
Bug fix: Fixed bug preventing Cyn from properly assessing PC's bra size.
Bug fix: Wardrobe menu should default to unlocked (the player should choose when they don't want to see it anymore)
Bug fix: Prioritized 1st sunscreen event for Cynthia, so she hopefully won't miss it (resulting in the PC getting a sunburn).
Bug fix: Poolside May event should now recognize if you've noticed John but haven't met him.
Game "balancing": Added delay to prevent eye color TF from being done in one day.
Game "balancing": Halved chance of filler events, to give bigger events greater priority.
Developer: UsagiTripleSix
Platform: Windows
Language: English
Interns of Ecstasy Island Version: 0.291
Censored: No
Size: 282 mb
Download game: