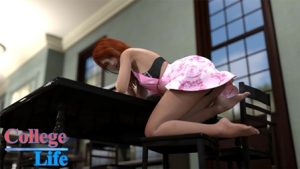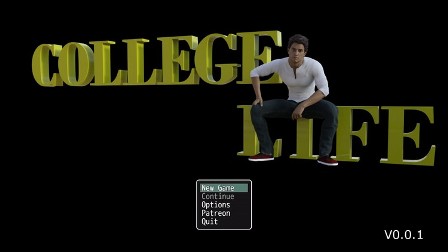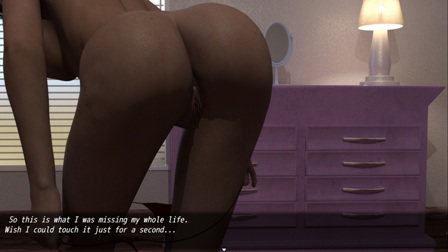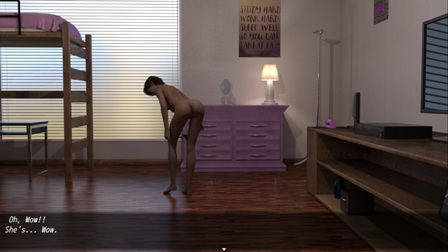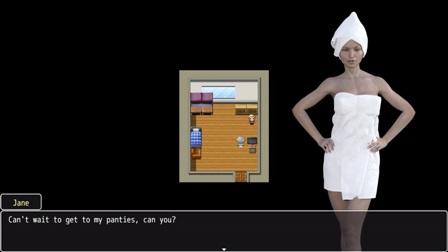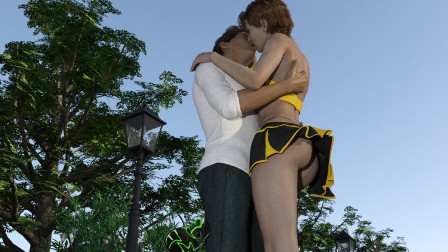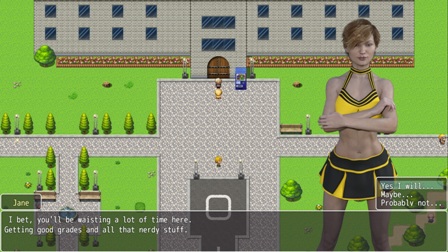 College Life You play as a male hero, whose goal is to finish college
to become successful at life so he can help his family.
He's so smart, you don't have to worry about his education, but everything else is in your hands. Main quests serve only as introduction and it is up to you if you want to impress other characters or if you want to just pass by them. Improve your relationships by doing specific activities, hone various skills to get the edge at certain situations. Oh and yes, purse all sexual activites you can find.
New saving
Let's start with the biggest change in this update. The saving location was been changed. Now it saves into a local application directory, or how ever it is called correctly. What it means is that from now on you won't have to import save files from previous version to the new one. You just download the game, start it and load your save. It also fixes ongoing problem with the Mac version, where for some players the game didn't save at all.
But you have to import the save files to his version of the game, otherwise you won't be able to load them. I have written a post that should help you to do that. Read it here
The content
This month I think I've created a good amount and good quality content. There are four new animations. Three of them look quite good. One should have been my best, but it didn't work out, so I had to cut a piece of it out, but it looks decent.
There are three big events and one small event. One of the big ones is unique, the rest can be repeated. I won't go into much details, but to give you some hints, one is an expansion of the running event at 7pm. The rest happens in Jessica's appartment.
College Life v.0.2.4
Changelog
added over 100 new images
added one new animation (another 30 images)
rerendered over 80 images, including Jane's lunch event, one of Joan's animaitons and Jane sitting at the desk in MC's room
added series of events called 'Cheerleading Decision' started at the stadium
added series of events called 'New Casual Outfit' started at the Main Hall
added option to massage Jane's breasts in the room
fixed major that caused crashes/unlocked hidden option, if player opened save menu/save the game on top of the hidden options
fixed bug, when on rare ocassion the game acted like MC was still in Jessica's appartment, even though he wasn't
fixed bug in Kara's 'First Touches' event, where option to look down wasn't working after using option to look even lower
removed almost duplicate lines from Kara's 'First Touches' that may have broken an immersion
fixed Jessica's achievement that was green from the moment her page was unlocked
fixed bug that caused to play repeatable sex scene after the cheerleader training right after you've finished the unique 'New Cheerleader' event
fixed bug that caused the time not to advance after talking to Kara during her lunch in the Main Hall
Thanks everyone, who reported a bug, especially Regardie for his amazing work on reporting a lot of bug and fixing typos and other text issues
Hotfix
Hi there, not much has happened since my last post and I have found only one bug, so no updated with bug fixes today. But the bug is annoying, so there is attached hotfix at the bottom of this post.
it fixes an image stuck on the screen, when/if MC cums at the end of the "Becoming Lovers" event
Censorship: None
Platform: Windows
Language: English
Size 1500 Mb
Download game: