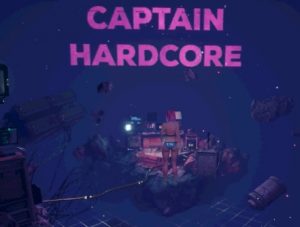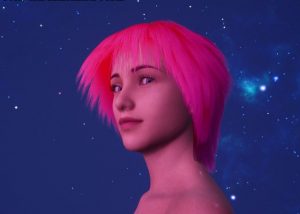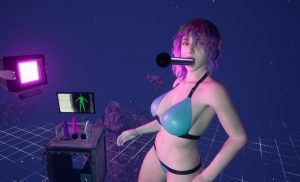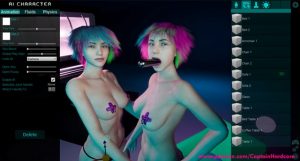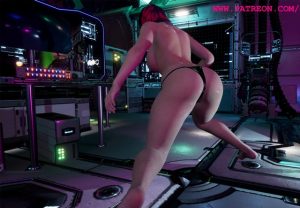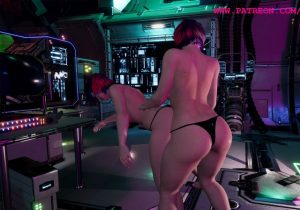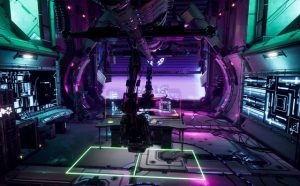 Board your ship and explore the darkest reaches of the universe in search of the hottest and most depraved space sluts. Bring them aboard your research vessel where you can customise their looks in your bio-metrics lab, probe and experiment on them in your high tech science chamber, or create virtual scenes using your ships Cyber-Masturbatorium – all in the name of science!
NEW: The head can now be moved, rotated and animated easily. This took a while as it required an upgrade to the IK system and a lot of adjustments to the physics but it was a much needed function! This really helps with posing characters and can be animated like the other IK points. It also works well in desktop mode.
NEW: POV (point of view) mode for VR and desktop. Press the POV button to teleport inside the body of any character and see through their eyes. Hold down right thumbstick to reposition/align yourself relative to their body in VR. You can use a Vive tracker strapped to your waist to control the hip movements! Hip tracking also works with a controller attached to your waist if you set it to toggle grab, so you can enjoy this feature even if you don't have trackers. Press A or X to exit POV mode.
NEW: All spawnable objects can now be animated. You can animate a toy thrusting or a paddle spanking for example. This opens up lots of new possibilities!
NEW: Individual clear buttons for each IK point that erase their motion. Toys and other objects also have a clear motion button. This makes it a lot easier when animating a scene as a mistake no longer means erasing everything.
NEW: All toy colours can now be adjusted and some toys also have adjustable opacity and glow effects.
NEW: Vive trackers can be attached to any point on a character including the head for blowjobs or the feet for foot tracking.
NEW: Up to three Vive trackers are now supported. Set them to Waist, Left Foot and Right Foot in "Manage Vive trackers" in Steam VR.
NEW: Lock pose setting. This hides and locks all IK points in place so you can't accidentally grab one and mess up your scene.
NEW: You can now attach the long dildo and penis dildo to the Penetrator.
NEW: Settings to control the strength and damping of breast, bum and thigh jiggle.
NEW: The + and – buttons on the timeline now control animation playback speed.
NEW: 2 new scenes (Sexy Time 2 & 3).
Improved: It's now much easier to rotate and position the hands in VR.
Improved: Upgraded to a new IK system that allows better head/spine movements. This was needed to create the head IK point.
Improved: Optimised the character animation blueprint.
FIXED: Move object button not working after grabbing an IK point.
FIXED: After deleting a character the move and delete buttons are still visible.
FIXED: The Vive tracker button now works properly, you no longer need to press T to attach to an IK point.
FIXED: It should be easier to grab the ass in no motion controller mode.
FIXED: Issue with reflections when loading the ship level from the Cyber Masturbatorium.
FIXED: When loading a custom texture the file name is displayed in red even though it loaded correctly.
FIXED: When changing from VR to desktop and back to VR extra Vive trackers are being spawned.
FIXED: Fire particle spawn rate in the Manor Bedroom.
Developer: AntiZero
Platform: Windows
Language: English
Version: 0.9
Censored: No
Size: 5800 mb

https://k2s.cc/file/14065553abde8/CaptainHardcore0.9.part1.rar

https://k2s.cc/file/0ee3225190c6e/CaptainHardcore0.9.part2.rar

https://k2s.cc/file/bf67961d7491b/CaptainHardcore0.9.part3.rar

https://k2s.cc/file/fc7df39d42924/CaptainHardcore0.9.part4.rar
OR

https://fboom.me/file/14065553abde8/CaptainHardcore0.9.part1.rar

https://fboom.me/file/0ee3225190c6e/CaptainHardcore0.9.part2.rar

https://fboom.me/file/bf67961d7491b/CaptainHardcore0.9.part3.rar

https://fboom.me/file/fc7df39d42924/CaptainHardcore0.9.part4.rar