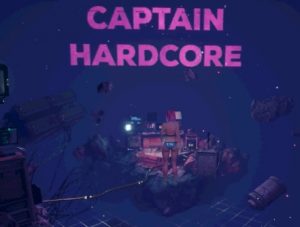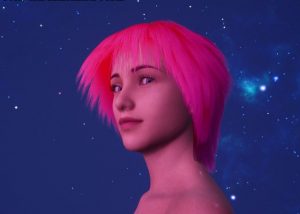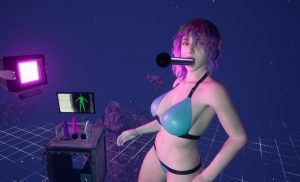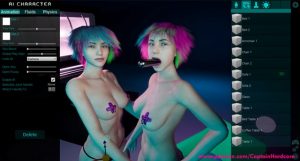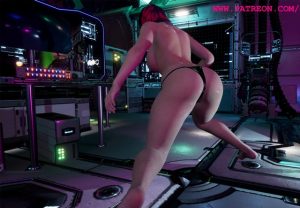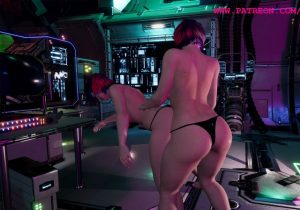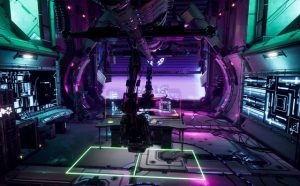 Board your ship and explore the darkest reaches of the universe in search of the hottest and most depraved space sluts. Bring them aboard your research vessel where you can customise their looks in your bio-metrics lab, probe and experiment on them in your high tech science chamber, or create virtual scenes using your ships Cyber-Masturbatorium – all in the name of science!
Changelog:
NEW: Hand physics (enable in the settings menu) – you can now insert your fingers into the mouth, pussy and ass and grab the dick or strapon. Hands will cup the breasts and ass realistically and while skin collision isn't perfect all over yet this improves interaction and immersion a lot!
NEW: Breasts and ass collision is a lot more accurate and adjusts automatically with the morphs. This fixes the problem where large or small breasts would have a lot of clipping or collide with objects that are not touching them. Auto adjustment should work well in most cases but it's not quite perfect yet. There's some sliders in the misc menu that can be used to fine tune if needed (disable auto adjust collision to see them). There are areas of the body that still need work (mainly the legs) but this is a big improvement and I will work on improving it further!
NEW: Record animations in desktop mode using mouse movements. Select an IK point, toy or other object and press R to start recording. All movements will then be recorded until you press R again to stop. It's possible to create natural looking movements but with less freedom than in VR.
NEW: Vive trackers can be attached to all objects including toys, so you can strap a tracker to your waist and use it to control a virtual dick.
NEW: All object and IK attachments now save with the scene.
NEW: Patreon login system. This is set up so that if you upgrade your tier it'll automatically unlock the relevant content and you won't need to re-download the entire game. If you downgrade or unsubscribe you'll always be able to play the last version you had access to.
NEW: 5 new makeup textures.
NEW: Scene load button that takes you straight to the load menu.
NEW: Quick save/load feature. In VR press and hold the save or load buttons for 1 second to quickly save or re-load the current scene. In desktop mode press F1 to quick save and F2 to quick load.
NEW: Sort scenes by name, new or old. This is useful when you want to keep the most recently saved scenes at the top of the list.
NEW: Dick length can now be adjusted.
NEW: Voice volume and pitch controls.
NEW: Filter character presets by male or female. Male and female are now saved in separate folders.
NEW: Sort character presets by name, new or old.
NEW: Delete character preset button.
NEW: Number of scenes is displayed at the top of the scene menu.
NEW: Scene date and time are now displayed when hovering a scene.
NEW: Independent settings for smooth locomotion, teleport and snap turning to give you better choice of movement type.
NEW: Change the field of view when using the scene thumbnail camera by scrolling with the mouse or pressing up/down on the thumbstick in VR.
NEW: Added a red glowing sphere when recording an animation to make it clearer that something is being recorded.
NEW: Added new character presets and updated some of the old ones.
Genre:
3D game, Animated, BDSM, Male domination, Masturbation, Oral sex, Sci-fi, Sex toys, Vaginal sex, Virtual reality
Developer: AntiZero
Platform: Windows
Language: English
Version: 0.10.1
Censored: No
Size: 5900 mb

https://k2s.cc/file/808bd655c46db/CaptainHardcore0.10.1.part1.rar

https://k2s.cc/file/475e787cbbf1b/CaptainHardcore0.10.1.part2.rar

https://k2s.cc/file/31c288c80580a/CaptainHardcore0.10.1.part3.rar