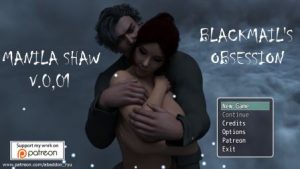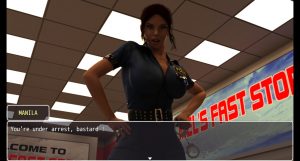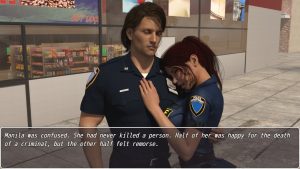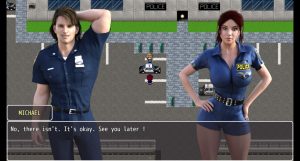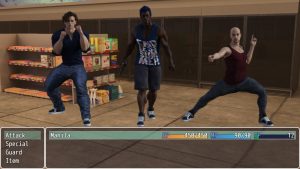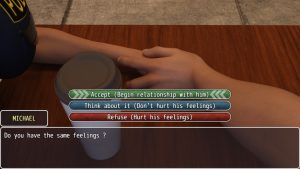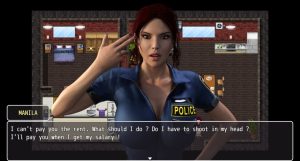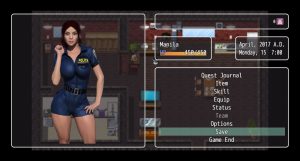 The protagonist of my game is Manila Shaw, a policewoman who is respectful of the rules and very good at her job. She always has money problems and has struggling to pay the house rent. A Manila's police action in a convenience store will attract a mysterious man's attention to her and this will change her life, throwing her into a world of corruption and deception…?
v.0.11
I've completed Manila Shaw: Blackmail's Obsession v0.11.
In this update you'll play "Sunday" (Part 1).
Warning: Keep your old saves. In the next update I will still work on "Sunday".
This update has the following quests:
(The choices of the previous updates can change some dialogues)
– Casino/Marcus (Messages, Smartphone is necessary!)
If Manila is Michael's girlfriend, you will unlock the following side quests:
All In (VIP, Side Quest) and All In (Eden, Side Quest)
or
Traitors! (Daily Quest)
If Manila isn't Michael's girlfriend, the Casino / Marcus quest will have some different renderings.
– Plumber (Side Quest): this quest will automatically unlock when Manila wakes up.
– 5 short animations.
– It is possible to play with slot machines (beta). The man and woman at the entrance manage the change of coins.
– I've modified the shower scene. Now there is the "Full version" and the "Normal version". The shower is always optional!
Remember:
you can show / hide the Arrows Map (indicators to change map).
Press on the keyboard:
(PageUP = Show Arrows Map; PageDOWN = Hide Arrows Map)
Censorship: None
Platform: Windows
Language: English
Size 2060 MB

https://k2s.cc/file/ac14140300e6e/BLACKMAILS_OBSESSION_0.11.part1.rar

https://k2s.cc/file/d986825cbe798/BLACKMAILS_OBSESSION_0.11.part2.rar
OR

https://fboom.me/file/ac14140300e6e/BLACKMAILS_OBSESSION_0.11.part1.rar

https://fboom.me/file/d986825cbe798/BLACKMAILS_OBSESSION_0.11.part2.rar