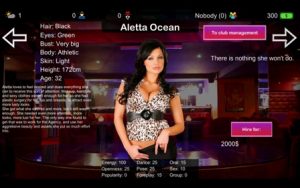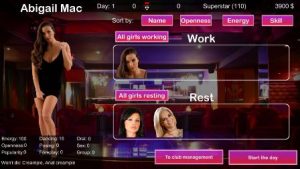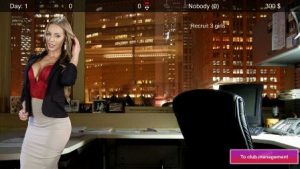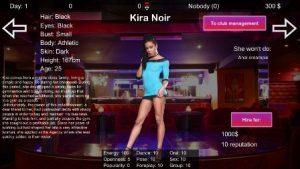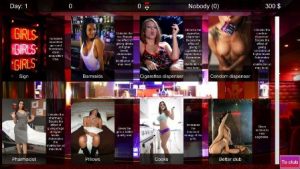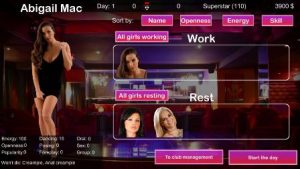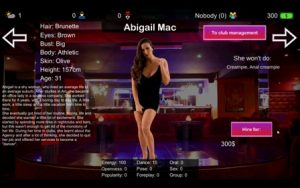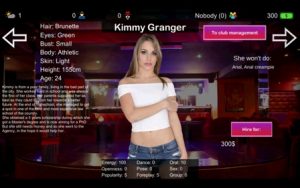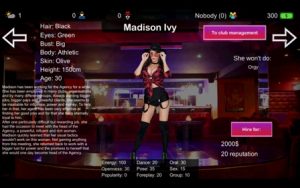 Ever dreamt of managing your own sex club/brothel? Hiring beautiful women and putting them in touch with people looking for some "fun"? All of that in a lighthearted and funny* atmoshpere? Then don' t look any further, you found what you were looking for!
Welcome to Venus's Club, a place where all your dreams become reality. Well, assuming that you're dreaming about sex…
You'll have to manage your staff of beautiful girls (and happily watch them "working"), improve your club in various ways, get in touch and work with outside organizations that like you as long as you bring them money!
Plus, you'll have the company of Nicole, your sexy assistant helping you in your day-to-day tasks and maybe in other ways**.
*Funny according to the developper. In reality, funny is a completely subjective word, so you shouldn't expect much meaning from it. Outside of blatant marketting tactics, of course.
**No, not sex. Not at the very beginning at least. You need to get to know the girl before that kind of stuff. This is a porn game, but still, we have standards here. It's not like we just show you girls having sex.
Changelog
Update 9.5:
UI rework of the booth game, to increase useful information while reducing clutter
Won't-do lists for girls have been replaced with a visual element that shows which finishers the girl will not do.
Instead of showing which specific sex act tiers a girl won't do, a visual element has been added to show which skills the girl will not perform, as if a girl will perform a skill, the specifics of which acts within that tier the girl will not perform does not affect gameplay.
The booth/client readout has been removed.
This information is now fully visible in each booth directly, so it is redundant.
A new client will now signal which girls have the baseline ability to perform their act, as if they were clicked on.
Clicking on a client still maintains this function.
Customer intake rework
Customers will now have more variance as to when they enter.
Reputation will affact this variance, as will reputation-based traits.
This reputation will be compared to an external variable, currently based on the days passed. Favorable comparisons increase customer rates, unfavorable comparisons reduce them, increasing the importance for Reputation.
At parity this should give the same number of customers over time, even if the variable of when they show up changes.
This is necessary backbone for a future mechanic.
Customer quality rework
Reputation of the bar will no longer be the only variable going into the club customers' quality levels.
There is now an external variable that goes into this as well. Currently, this variable is scaling with the days past.
This is necessary backbone for a future mechanic.
Brat trait introduced
Brats do not gain openness by normal means.
Instead, they gain openness when forced to work by a negotiator.
They also get permanent boosts to their stats when forced to work by a negotiator, and this can bring them above the normal cap for stats.
They also cost considerably less to force to work by negotiators.
Costs of club upgrades have been reworked.
Money costs have been reduced, especially for lower level improvements.
Connection costs have been increased for high tier improvements.
Scramble mode costs have been reduced.
Assorted bug fixes have been employed. There will still be some minor bugs remaining, and those are planned to be tackled for the 10.0 version.
[collapse]
Developer: Tobe
Platform: Windows
Censored: No
Venus's Club Version: 9.5.0.1
Language: English
File size: 2000 mb
Download game:

https://k2s.cc/file/7eacca4da4857/VCHH_v9.5.0.1.7z