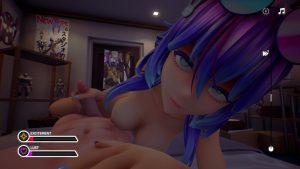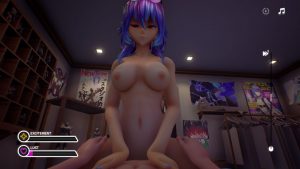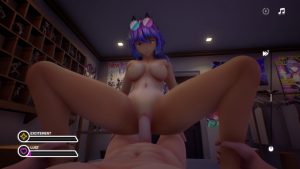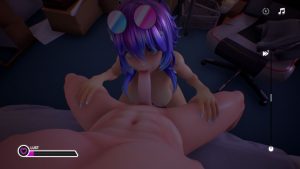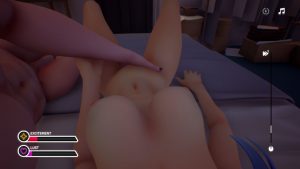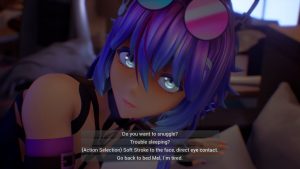 You're in bed, cock in hand, anime tiddies jiggling in your dreams. Suddenly, you feel something soft press against you. You wake up and open your eyes to find Melody, sleeping next to you! What will you do?
Currently, the pre alpha version is a scenario with the player and Projekt Melody together in the player's bedroom.?
Changelog:
Projekt Melody: A Nut Between Worlds v2.1.1
This release contains many quality of life changes for the sandbox / scenario creator. We also added Hair and Body Physics, so take a look and enjoy the bounce!
Storyline:
Camera shouldn't head bang any more during the sequences. Even when you skip.
Should now correctly display the alternative text when you pick up the special lube instead of the standard lube
Mission Markers should now only mark current objective.
Fade in and fade out should now correctly play even when skipping.
Characters shouldn't ever flicker for a frame any more in some scenes during the interactions.
Scenarios:
The environment is now saved with the Scenario save file when you save the scenario. No need to load and save an environment any more. That being said you can still save environment maps and load environments by using the top left buttons.
Changed New, load and save buttons for the scenario editor thingie to say "environment" instead of "scene" to reduce confusion.
Loading and making a new environment now no longer affects the scenario
The characters now are in full size when applying animations to them.
Beds added
The warning messages shouldn't hide behind previous ui elements any more.
The transform buttons should now show the correct buttons. 1 2 3 4 instead of q w e r.
Added "Focus Selected" to the drop down menu when you right click the object in the outliner. This also shows the hotkey to use to focus objects.
The last edited scene should now correctly save when the Scenario is saved.
The camera speed and hide mesh sliders now has tool tips, (The house and camera at the top)
The scenario should now correctly auto save itself when pressing play.
When making a new scene it will now automatically open the new scene.
The speed slider should now correctly work while playing the scenario
General:
Censor meshes should now be correctly removed in all situations. Please report if you see floating balls of censorship hanging around where they don't belong.
Physics on body parts should now look a lot better in both scenario and storyline.
An horny amount of backend fixes that no one will ever notice or see.
[collapse]
Developer: Big Bang Studio
Platform: Windows
Censored: No
Version: 2.1.1 Alpha
Language: English
Size: 5270 mb
Download game:

https://k2s.cc/file/552374bb4563d/ANBW_ALPHA_2.1.1_UNCENSORED.part1.rar

https://k2s.cc/file/fd4761336af0e/ANBW_ALPHA_2.1.1_UNCENSORED.part2.rar

https://k2s.cc/file/8a1f35a9ef431/ANBW_ALPHA_2.1.1_UNCENSORED.part3.rar