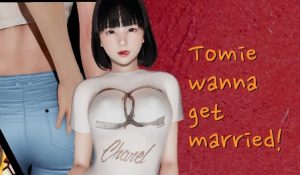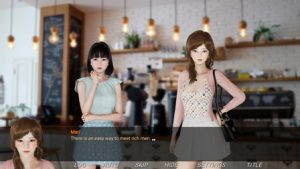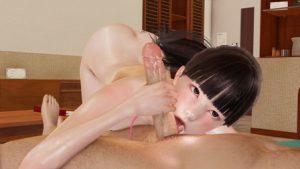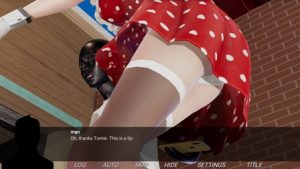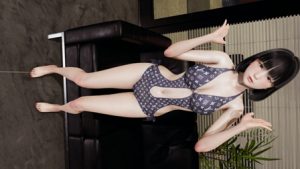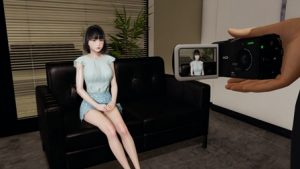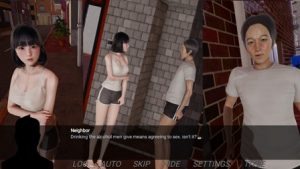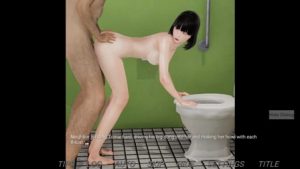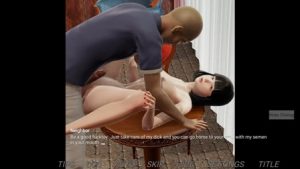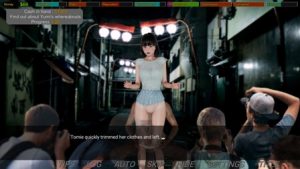 Tomie is a college student who took a leave of absence from college.
She was no longer interested in studying or working diligently,
and she wants to meet and marry a rich man who will fill her vanity.
At the recommendation of her friend,
she joined a matchmaking company mainly used by rich men,
and she met and dated several rich men.
Whether she will succeed in meeting and marrying a really good rich man, or any other ending, is all up to you.
Changelog: Tomie Wanna Get Married v0.760 (2022-01-12)
(Improved) proofread of about 200,000 words
Most were proofreads of error correction
* It is expected that errors when translated with an automatic translator will be slightly reduced.
(Added) Threesome, GB related Events & Scenes
Workers
After the H-Scene due to the group approach of Workers, they are likely to call other men.(50%)
Exclusive scenes and CG included
Handen beach
Tomie can sunbathe nude in the corner of Handen beach. and…
Exclusive CG included
Samdai
Choi and the guards won't be the only ones approaching Tomie on the way home.
Exclusive scenes and CG included
Event occurrence conditions
They start approaching when Tomie's Samdai Reputation is below 66.
If Tomie's Samdai Reputation is below 40, they approach Tomie… and..
Neighbors
Neighbors are always worried about Tomie's condition.:whistle:
Exclusive CG included
Event occurrence conditions
Tomie has to pretend not to be there when someone is visiting.
Tomie's Reputation must be less than 0
Tomie has to have sex with Neighbor at least 3 times.
The doorlock must be in a dangerous state.
(Added) Shower related mini event
If a camera was installed in Tomie's shower, the neighbors could play a prank on her.
(Added) 4 Anim H-Scenes
MMFWorkersAlley_0,1,Finish
MMMF2_1,MMMF2_2,MMMF2_Finish
ThreesomeSamdai_1,2,3,Finish
ThreesomeBackAlley_1
(Added) translation tips button to main menu
(Added) Action mode related content option
You can adjust the cost of Town action and Contact action in Others item of Daily setting.
(Town Action: 2 to 3, Contact action: 8 to 10)
(Added) console cheat added (for professional only)
Press the ` key (to the left of the 1 key on the keyboard number) to open the console cheats.
Typing var opens a UI where you can adjust all the variables in the current game.
To use the console cheat syntax, refer to naninovel's api documentation.
https://naninovel.com/api/
(Added) debug code
This is a debug code that can be used on phone item in your inventory.
iwanteasymode – Earn 50 achievement points
(Added) Slutty outfit releated plus contents
– Added one Town enter event.
– Crime hotspot has been added among the search locations in Town.
It will surely lead to a very dangerous event.
– Added another route leading to baghead slut ending through events in Crime hotspot
(For detailed explanation, please refer to TIPS&HINTS)
(Added) BackAlley related plus contents
– Some backalley scenes have been improved, and related CGs have been added
– At the start of a backalley H-event, there is a chance that the event will be a Threesome (33%)
(with dedicated Anim H-Scenes) [ThreesomeBackAlley_1]
– There is a possibility that there will be additional customers (33%) even after the backally H-event.
(Added) slum enter EV and related approach type
An ill-immigrant will relentlessly approach Tomie to seek permanent residency.
And… (SPOILER)
*This event occurs with a chance when Tomie enters Slum on the Town map (20%)
(Added) Karl additional content – BDSM related
After ending with Karl or Naturo, Karl contacts Tomie.
Calls occur with a high probability on Sundays.
And, he wants to make a special contract with Tomie.
– Content requested by Markimera
(Added) Misey related Story & H-Scene & Ending
The route associated with Misey has been completed
Related CG and H-Scenes have been added, and it is also included in the ending gallery
Related tips have been added to TIPS&HINTS
(Changed) Minor improvements to tweak the connection of some events
ex: In the huntgirl event, if ignored and passed, there is a 25% chance that it will lead to another approach event.
(Changed) Adjusted the selection order of some UIs, etc.
(Changed) Tomie in wonderland ending item name changed to ???
Think this ending doesn't exist. It's just a hidden Easter egg
(Fixed) Error in omission of newly added CGs in Android version
(Changed) Slutty outfit's Reputation reduction has been increased.
(Improved?) Christmas title with CG
It is only displayed from December 21st to 25th
(Improved?) Some unused resources have been further cleaned up. (-20mb)
(Changed) Readjust the default transition time from 0.05 seconds to 0.25 seconds.
It seemed a bit strange because the time was so short.
(Fixed) an error where character CG overlapped in the finale of Yumi episode
(Changed) Increased probability of group approach in Town Enter event
(Changed) Slightly increase the probability of group approach by workers
(Changed) Slightly replaced Samdai's Choi's coffee CG
(Changed) If Tomie is wearing a slutty outfit, she changes her clothes after returning home.
(Changed) Trauma does not increase when Tomie is wearing a slutty outfit
(Fixed) a bug where Tomie could visit Handen beach without any conditions on Handen beach
Developer: Ollane
Platform: Windows
Language: English
Tomie Wanna Get Married Version: 0.760
Censored: Partial
Size: 2220 mb
Download game:

https://k2s.cc/file/65aade6f5cc8b/TomieWGM_0.760_Win_Public.rar