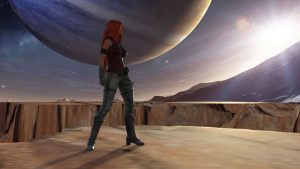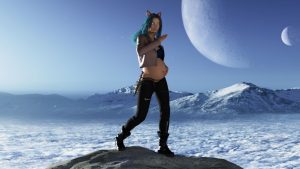 More important news for this Version 5 are:
– 3 news 3d images.
– A lot of new guns, armors, how shotgun (monk), condom, breast pump (for pregnant character), New Bra (for pregnant character), sexy clothes, red thong and more.
– Lust skills, weapons and clothes, and some clothes activate the F**k skill.
– More enemies and the oldest are equilibrate.
– First 3 ost for the game.
– The game have the half of size.
– Some bux are fixed.
– You can use the condom used for have less encounters with enemies, you found it in a cave when you travel with ship.
– And more!
– For play are news I recomended play since start, not with old file (you can do it too).
This history continues 1 years later, when Abby is searching her daughter and the way to return her planet, The Earth. More pregnancies, more friends, more adventures, this is the Kingdom Pregnant part 2: The elements.
The second part, is a 2d rpg game and you play in Arnia planet, far away from Earth.
Content: Pregnancy (principal), expansion, 3d images, aliens, mind control…
Lust system: When you touch a enemy with your attacks, your lust grow up. With lust you can make special attacks how F**k and fall in love the enemy.
Pregnant skills: The pregnant character have special skills and equip. She is the only character can use pregnant clothes or biggest bra for adapt her new boobs size. The pregnant character is the only character can use the magic.
Censorship: None
Platform: Windows
Language: English
Size 382 MB
Download game: