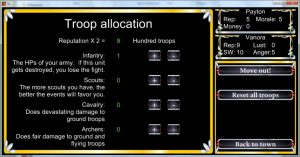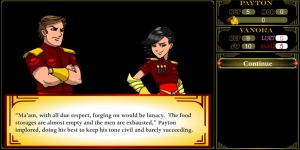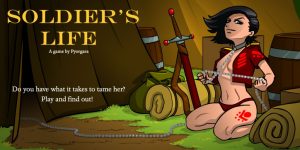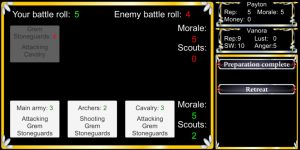 Info: You'll play as a soldier who suddenly got promoted over his ice queen superior officer. She made everyone's life a living hell and now you have power over her. My goal for this one is to add more fun stuff for you guys to play with. I am thinking of adding a war system since you'll be in command of an army and more player choices. Since this is only my second game, I'll be careful to not overreach but I think you'll enjoy the additional functionality.
Cheat code: "thankyou"
"Hey everyone!
A new build! Yay! And if everything went well, this should be the last one. Sorry for the long build time but my day job really picked up, slowing this build down considerably and then, because I was coding after a really long work day, I would get sloppy and create bugs that I would usually catch right away. But this is now behind us! If you guys spot any bugs, please tell me about them and I'll do a quick update build.
For those of you who enjoy playing with the cheat code, this one will be the permanent one for Soldier's life. (even if there is another build later on because of missed bug, the code will stay the same.)
Like usual, 2 posts down for the current build links and one down for the cheat password.
The deets:
-Gallery. (This took so long to build but it's now up and works great. You'll have to replay the game to put the scenes in the library, though, as the markers didn't exist before.)
-End splash screen.
-Updated the credits. (Sooooo many names to add.)
-Added a one and a half scenes to dueling Vanora.
-Tweaked numbers. (A lot of changes in the backend. I think that the game is a little more smooth now.)
-Give more troops for first 3 sorties. (A little scene added and you'll now get 2 extra troops for those turns.)
-Stop reputation losses for first 3 sorties. (General Daniska will absorb the rep loss from defeat, retreat and not fighting anything for you, giving you a better foothold on rep at the start.)
-3 endings pics. (one for each endings)
Man, that was a tough month! I'll take next week off since I'm now between games and will wait to see if anyone has bugs to report. It will be nice to have the evening for myself for a bit. I'll take the time to play lots of porn games! Will help give me ideas for my next game's design.
I hope you all have a great week!"
Censorship: None
Platform: Windows
Language: English
Size 295 MB