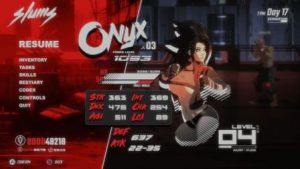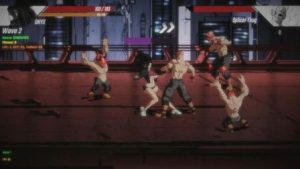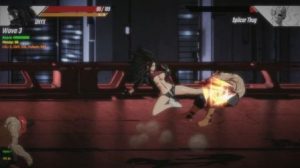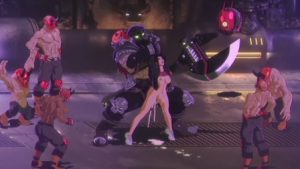 Pure Onyx is a classic beat 'em up with RPG elements set in the world of our flagship title, Malise and the Machine. It follows heroine Onyx as she brawls her way through the dystopian streets of New Babylon, where she'll encounter gangs, crime syndicates, a corrupt police force, and the bio-engineered horrors of the insidious Babel Corporation. It features fully animated, 3D art and is styled after 80s cyberpunk anime. Pure Onyx contains in-game, fully animated H content.?
Changelog:
as mentioned in the progress update earlier this month, a major goal since the Inner Circle release was to polish up the Chain Splicer H scene. We've added a ton of SFX, animation fixes, secondary motion (jiggles/hair), liquid FX for the outro, and a better viewing angle. We've also added a lot of new SFX to the Runt/Thug double team scene.
The Chain Splicer now has a much more performant chain weapon, so you should see some performance boost if you had lag issues with him before. We've also added a performance option to disable post processing. Continue to expect additional performance options in the future :D.
If you haven't played the Inner Circle release from a couple weeks ago, you'll be seeing the improved belly bulge on the Onyx vs Wraxe scenes, the new loading screen for the first time, and you may also appreciate that the Vioreapers no longer spam stingers :D.
Check below for additional changes/fixes!
Changelog
(** indicates items added since the April 17 Inner Circle test release):
** Improved viewing angle for the Chain Splicer H Scene
** Added secondary motion (jiggles, hair and clothing animation) and a ton of fixes to all Chain Splicer H scene animations
** Added liquid FX finisher to the Chain Splicer H scene animation
** Added many more detailed sound FX for Runt/Thug double team scene.
** Added even more detailed sound FX for the new Chain Splicer scene.
** Added oral, H insertion, and H pullout SFX.
** Improved CPU/GPU performance for Chain Splicer during combat / grapple
** Added Post Processing Disable/Enable option to the Options menu (good option for those looking to increase their performance).
** Upgraded Unity version
** Fixed issue where sorting inventory doesn't update currently selected item (would cause incorrect item to be used directly after sorting)
** Clean Rag item can now actually be used (woops)
Added Chain Splicer + Onyx H scene to the game and to the gallery.
New belly bulge for Onyx added to Street Lord Wraxe H scenes.
Onyx's belly piercing no longer gets absorbed into her when her stomach bulges >_>.
Added the first version of the new loading screen.
Upgraded basic Hit FX graphics.
Wraxe can now summon Chain Splicers
Wraxe now summons more minions at once, but his summon skill has a longer cooldown.
Street Lord Wraxe should no longer get stuck in place when walking.
Vioreaper no longer spams stingers.
Onyx will no longer get a weird burst of speed when skidding to a stop after dashing.
Actor State Viewer (debug text above characters' heads) will no longer appear backwards in the Sewer map.
Street Lord Wraxe now steps back properly after missing a grab instead of sliding across the ground
Removed stop-motion ("lag") from Wraxe's grab animation
Fixed glitchy liquid pooling on the Runt+Thug double team outro
Increased footstep volume
Known Issues
Here are the newest/most relevant known issues.
Still have a few fixes/improvements to make on the Chain Splicer H scene anims, especially to the second part of the intro. There are some minor issues with the chains due to having to use a slightly older rig for compatibility. Will be fixed in next update!
The Chain Splicer currently has no unique H attack animation. His windup animation will receive new FX soon to distinguish between an H attack and regular attack.
New loading screen may have issues with 3:2 aspect ratio. We're working on a fix.
Charger's hitbox shifts slightly after he charges. If he charges repeatedly this shift can add up to be significant. It will soon correct itself however.
Chain Splicer can immediately hit Onyx after an H scene if he had wound up to attack before the H scene began.
Kanji on the Chain Splicer's jacket is backwards when he faces left (will be fixed in next update).
Street Lord Wraxe can dash backwards if he begins his dash at the far right side of the map.
Enemies can appear floating above the shop characters after an H scene, but should fix themselves quickly.
Liquid won't show on Onyx during the Thug's solo H scene. This will be fixed soon.
The liquid spurt FX on one of the Thug's H scene finishers sometimes doesn't play. We're aware of the cause and seeing if it pops up anywhere else before fixing it.
Spamming attack/jump while Onyx is knocked down can sometimes produce a glitchy animation just before she gets back up, which can affect her next combo.
Street Lord Wraxe's hitbox is not good, especially during his attack animations (Onyx's hits will usually miss when it looks like they should land). He's the first enemy to move a lot from his origin during animations, and this separates him from his collider.
Infinite jabs are way overpowered against bosses right now. Jab spam will be changed to a standing combo soon-ish (among other combat improvements).
Street Lord Wraxe sometimes blocks the view of H scenes with his big fat wraxe when he's a bystander.
Console Commands
The game isn't balanced that great yet, so some people have asked if there are ways to bypass bosses or get some help. You can use console commands for this while the game is still rough around the edges. Press the ` (backtick/tilde) key to open the console. Type any of the commands below and press enter. Press ` again to close the console.
godmode on/off – Makes Onyx indestructible.
onepunchmode on/off – Gives Onyx the ability to kill anything with one attack.
setwave # – Sets the enemy wave to the number specified. Changes will not be reflected in enemies until the current wave is wiped out. If you want to fight Street Lord Wraxe, who spawns on Wave 20, then set the wave to 19 and wipe out the remaining enemies.
setgamespeed # – Multiplies the game speed by the number specified.
Developer: Eromancer
Platform: Windows
Language: English
Pure Onyx Version: May 30th 2021 Test Release
Censored: No
Size: 572 mb
Download game: