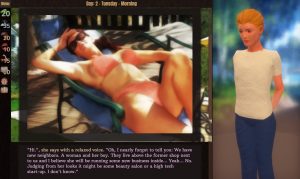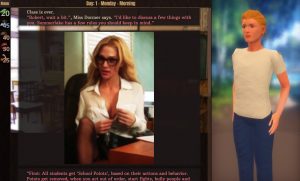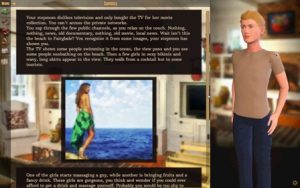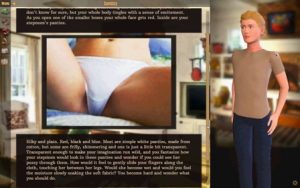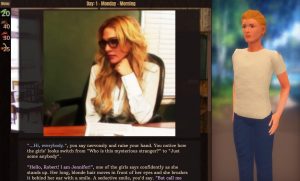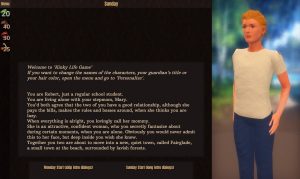 Kinky Life Game – You and your guardian have moved to a secluded town and you are attending a new school. Everything appears idyllic and innocent until one looks behind the veil and dares to rebel against the strict rules. Something is wrong with this town and even your guardian seems to change…?
0.4.3.c quick fix
– Cafe hiring fixed (would not progress, when you got the breast transformation)
– Increased Good Boy points gain for doing chores and pleasing the guardian
0.4.3 Fix
– Advanced Day 9 Start fixed again. (Forgot to set cloth preset)
– Fixed bug regarding invitation to the Convention, which did not trigger, when the player won the card games too early.
– Bullies will start giving you trouble from time to time after you get the make-up transformation. (You can just pay, fight your way out or do other 'favors'…)
– The Fantasticon. Erotic cosplay among geeks. (You can get invited, when you get the gender changer and can win against the geeks in the card game)
– New progression scenes for:
– Cafe
– Guardian's lounge
– Yoga classes
– You can score with your guardian (requires high body and social skills)
Other:
– Fixed Advanced Day 9 start, which prevented some people from going to school
– Added new songs and audio files
– Added a VERY basic turn based combat mechanic just to test if it works. I will include more in-depth mechanics and strategy in a later update. (The bullies get progressively stronger. Right now you need
– Fixed aspect ratio bug during hypno, flash and association.
Platform: Windows
Language: English
Version: 0.4.3c
Censored: No
Size: 183 mb
Download game: