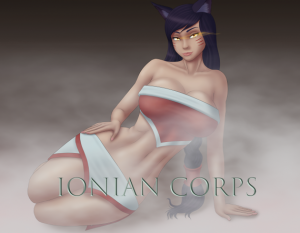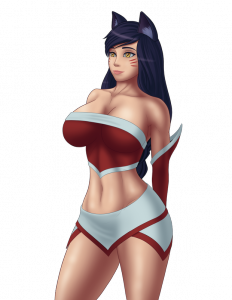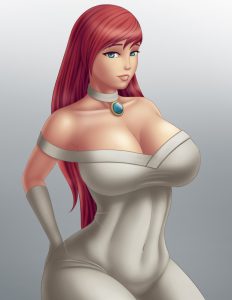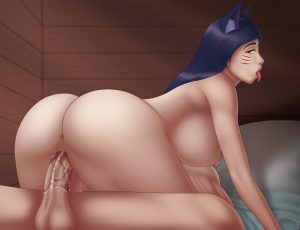 Noxus has had a sudden rise in military might and all factions have been at war because of Noxus' insatiable hunger for conquest and territorial expansion.
Because of Noxus' military power being too great all the other factions are losing. Everyone's decided to make an alliance and band together against their new common enemy. The alliance has decided to make small groups of elites to go behind the front lines of battle to bring down Noxus. Ionia has created the Ionian Corps to be the spearhead against Noxus.?
– 5 scenes: 4CGs, 1 image
– Clothed Ahri a little bit more. She doesn't have her stomach area showing anymore and her skirt is slightly longer.
– Avatar/bust feature added (press "PageUp/PgUp" to toggle it on or off. It can be quite buggy if you switch between Ahri's normal outfit and "Nothing" while her avatar is off, so be warned.) ALSO: If you have her avatar active and you go into a scene, it will show up above it, I'm pretty sure. It's only her base outfit that's available, so it's in your best interest to just leave it off. I know I should've fixed it, but I'm pressed on time and it's not an essential fix at this moment.
– Removed the minimap feature. With the limitations of my knowledge on programming/coding I can't figure out a way to make the minimap feature sustainable in the long run, more specifically the points of interest icons. It also felt a bit less immersive and less challenging.
– Typos from previous content in v0.1 fixed
All I can say is, like with every new initial build, SAVE OFTEN. I've played through the entire game over again and didn't run into any problems, just typos. I can't say that'll be the case for everyone. I was an idiot and didn't carry a previous save from 0.1 over into 0.2 to see if there'd be any problems with compatibility because I didn't have any old saves. So, again I apologize in advance if there are any compatibility issues.
(Hotfix v0.2.1: Removed the dude giving "Admin" weapons in the middle of the world map. All admin weapons will be removed upon entering the world map and exiting.)
Platform: Windows
Language: English
Version: 0.1.2
Censored: No
Size: 397 mb
Download game: