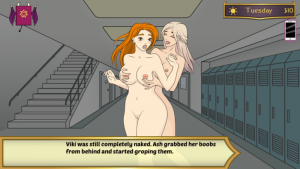 You are the succubus and you have a task to corrupt your target to complete the course. The start of the game is a visual novel type but then it changes. Our game is not a typical visual novel so you will need to manage time, work, study and obviously corrupt main character and the others. We have clothing system, shops, and corruption based events and some of them have animations.
Public version 1.15:
Events:
– Joint lecture with Brenda (On the lecture)
– Library occasion (Ash will came up to you after lectures)
– Dan breaks a lecture (Dan will catch you before lectures)
– Kelly masturbation with dildo (You can find it in a bedside table, repeatable)
Other changes:
– New character added: Steve
– New background: Librar
– You can now buy Dildo at the sex shop.
Censorship: None
Platform: Windows
Language: English
Size 157 MB
Download game: