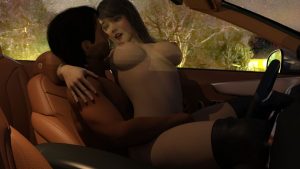 Dominatrix Simulator is a kinky and immersive BDSM submissions experience wrapped within an intriguing storyline that seeks to entertain, and possibly even educate, those inclined towards BDSM as a fetish and/or lifestyle.
The game is based on the on-and-offline BDSM experiences of its creators – Deviant Dev and Devilish Domina – and offers players a standalone immersive open-world-like experience. You can choose to align yourself with a variety of different Dominas or Mistresses and decide whether you wish to be obedient or rebellious as you navigate your way through the game world and story.
All Current Content Available for Free!
Hello to all our amazing supporters! We're opening up all current content for free to our fans until we can sort out the technical bugs and get back to creating more content. For now, use this passphrase to get to the content:
"The brutal hellcat whips her naughty bitch."
We'll get out an unlocked build as soon as we can get the kinks out of the player avatars. Who knew giving all you kinksters bodies would be so tricky! Thank you all for your patience and support! We are still working through the issues, but we do this as hobby and that means when work or family gets busy we can't always progress the game at the speed we'd like! We are making progress and we will keep you updated!
Much love – Devilish Domina
Developer: Deviant Tech
Platform: Windows
Language: English
Version: 2019.11.05
Censored: No
Size: 900 mb
Download game: