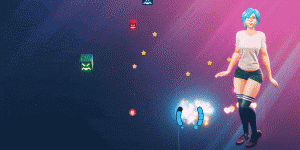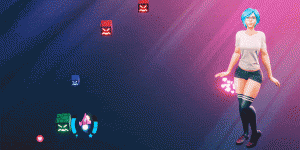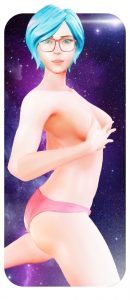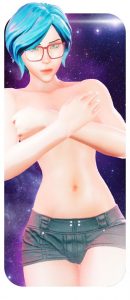 Choose your favorite copilot to defend the galaxy. That's where the game starts. Fight various enemy ships to boost your girl's love level & horniness! But pay close attention to your ship's fuel. Killing enemies and flying is hard work and consumes your energy. You'll have to look for fuel cells dropped by some of the enemies to keep your ship afloat!
Destroying enemy ships will give you some points in Sexuality, Talent, Flirtation, and Romance. Now here's the catch! Each one of the cuties absolutely LOVES one of these things, likes two of the others, but HATES one. It's up to you to get to know your girl and figure it all out!
Meet The Girls
Lola is such a smart-ass! Top of her class, even though she's only 5 feet tall, Lola gets excited every time she hits an enemy.
Mia is a great copilot. With her daring personality, she'll go the extra mile to bring victory to the team.
Daisy, well, don't be fooled by her name! An athletic 5'9″, she would kill her enemies with her bare hands.
Holly is not the smartest crayon in the box, but is she talented! A copilot with skills one can never forget.
Censorship: None
Platform: Windows
Language: English
Size 1250 MB
Download game: