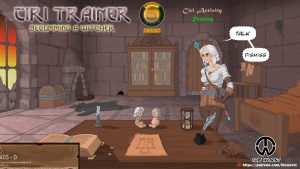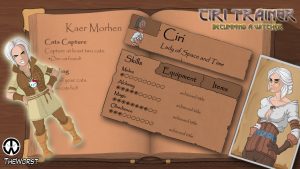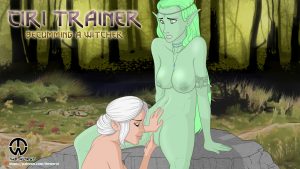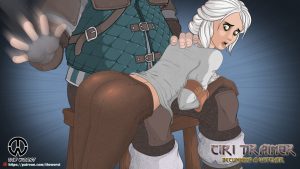 In this game you'll be playing as Vesemir, Kaer Moher's elder witcher in charge of training Ciri to becum a witcher herself!
Ciri Trainer: She will need to endure melee, alchemy and magic training and you'll be the overseer of her progress:
Manage Kaer Moher, assign Ciri to training and in case, punish her.
However, this will not be a one-man task:
Ciri was born with a natural gift for magic, so you will need proper sorceresses to help with her education and…
…There's a lot more features I don't wanna spoil just yet, tho.
Chapter Three
Added:
– Interactive doll (aka "Ciri slave");
– 2 (multiple stages) scenes with Rats;
– 5 (optional) monster scenes;
– 1 (multiple stages) tavern scene;
– "Cwunt" cards game (a "Gwent" parody, screenshot above) featuring collectible cards;
– Another amazing "cinematic" ending (Ok, it's TheWorst here taking full responsibility for the "amazing" part of this statement);
Improvements of existing content:
– You can talk to Ciri in her room, allowing for a better zooming of her figure;
– Pants-off spanking of Ciri once her lewdness is high enough, for both 1-2 and 4-5 chapters;
– Added difficulty levels to settings: On "Easy" you get two times more gold and resources and a twice as fast training. On "Hard" it's twice as slow, while on "Normal" it's how it is intended to be played;
– Training animations (alchemy/magic) can be now instantly skipped by clicking through;
– Improved mountains seen through Vesemir/MC room;
– Improved "daytime" backgrounds (morning/afternoon/evening/night);
– More lines of code that wouldn't mean anything to you.
Platform: Windows
Language: English
Censored: No
Size: 319 mb
Download game: